FORTHCOMING CLUB EVENTS & SHOWS
BBQ & Fancy Dress Competition, Bewdley, Worcs - Sunday 4th September 2016. Invitation letters have now been sent out - if you are not a member and would like to join us, please contact us for more details.
Open Show, Overseal, Derbyshire - Sunday 20th November. Judge Mr David Jenkins (Sheriff). Show Schedule and/or Entry Form are now available to download on our Results/Schedules page.
For more details on all of the above events and shows, please visit our Events page. Write up and pictures from our Summer Fun Day on 12th June 2016 are now on our News page.
Results and Judge's critique from our Championship Show held on Sunday 17th July now available on our Results/Schedules page.
CRUFTS 2016
Members of both the Midland Counties Airedale Terrier Club and the Airedale Terrier Training Club of Rushmoor manned the Airedale Terrier stand in the Discover Dogs section of Crufts 2016, which took place at the NEC in Birmingham from 10th to 13th March. Our volunteers were kept busy with a steady stream of visitors, particularly on the Saturday and Sunday, and as always the stand looked very impressive, giving visitors lots of information about the Airedale Terrier. Thanks as always go to MCATC Secretary Julie Martin for her sterling work in decorating the stand and co-ordinating the stand volunteers throughout the four days of the show.
In the breed rings, the Airedales were judged by Mr W Browne-Cole on Sunday 10th March. Best of Breed & Dog CC was ITA CH Expression Factor-X of Malton, owned by N Pisani & J M Bouma. Bitch CC was Muliebrity Harmony owned by Miss T Hampton & Miss D Hall. Best Puppy was Sonorra Skylark owned by Mr & Mrs Connell.
Below is 10 month old Gibson enjoying his first ever visit to Crufts, and who represented the breed on the Sunday afternoon. Our thanks as always to all our volunteers and their Airedales for giving up their time to make sure that the King of Terriers was well represented at the world's most famous dog show.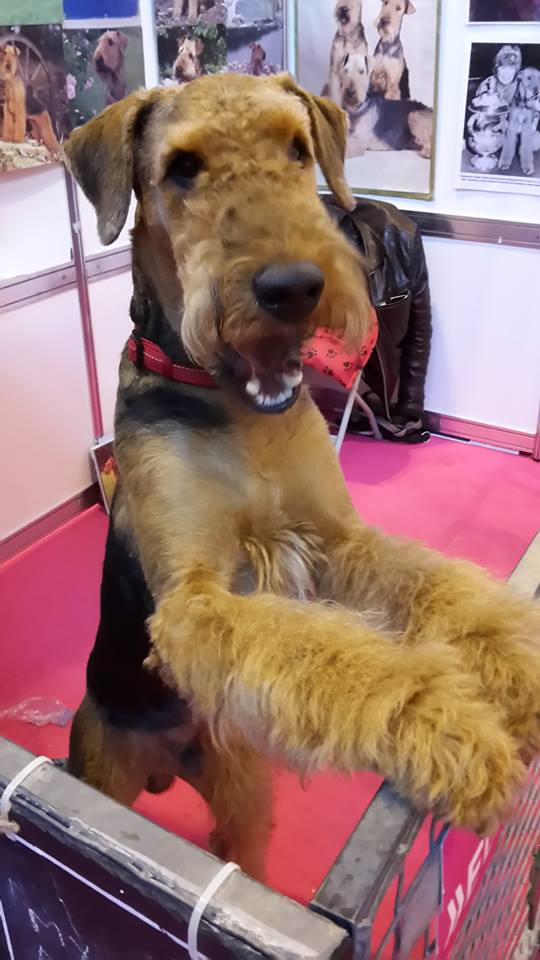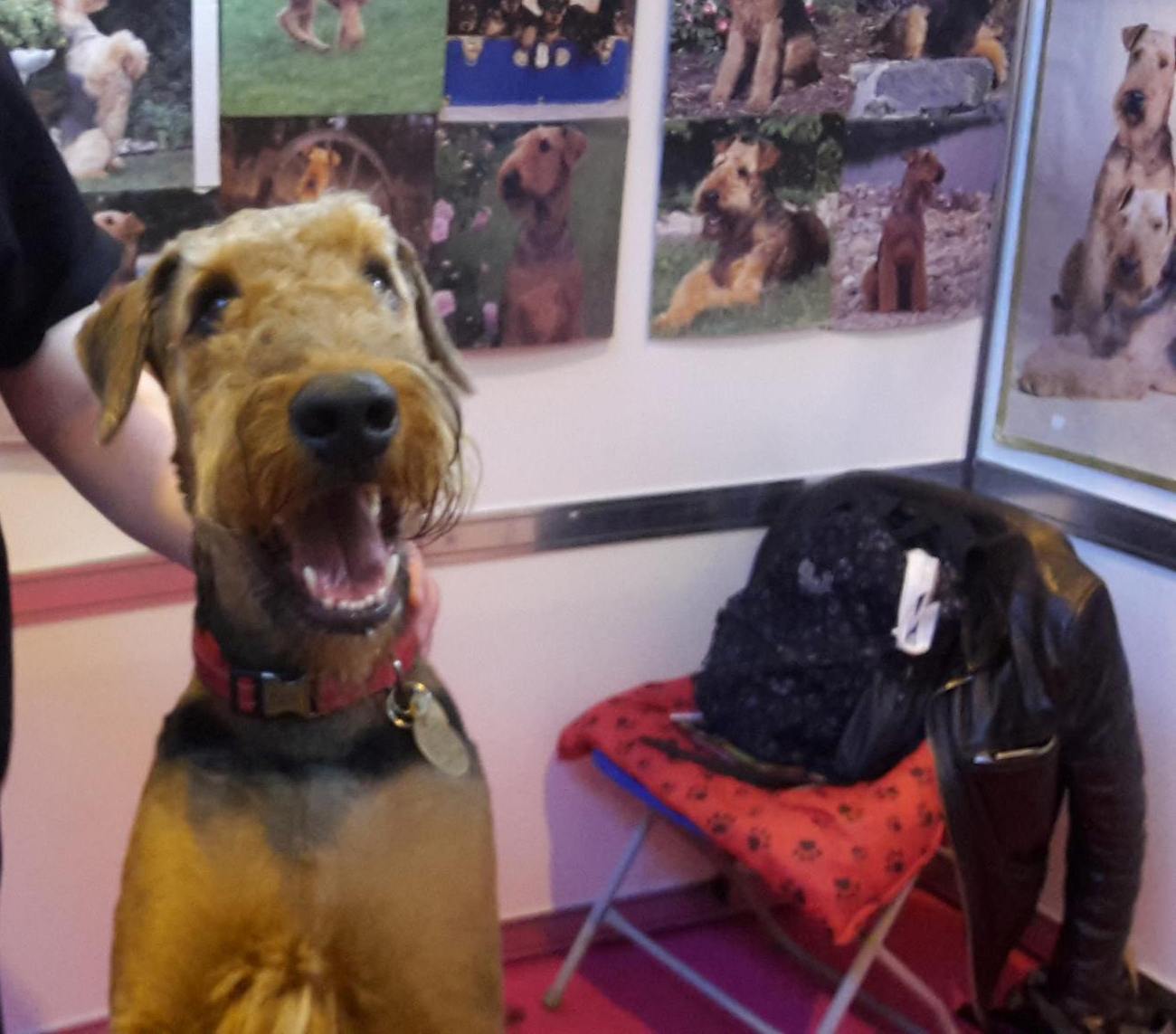 SUBMISSION OF JUDGING CVS
If you judge Airedales and would like to be considered for inclusion on our judging list, then please submit your CV and complete a judging questionnaire via our Contacts Page
DOGS LEFT UNATTENDED IN CARS - an important reminder from the Kennel Club which is particularly timely during the summer months, but which is important throughout the year, as even on what may seem like cooler days cars can still heat up very quickly. Please click here to read The Kennel Club's press release and click here to view a very informative short video warning of the dangers of leaving dogs unattended in cars - entitled 'Don't Cook Your Dog'.
© Midland Counties Airedale Terrier Club 2016