The weather stayed warm and dry for us at our BBQ on 4th September, thankfully the torrential rain of the previous day had cleared and it was warm and dry.

Around 50 members and around 25 Airedales, together with several other doggy friends, joined us at the picturesque home of MCATC Vice Chairman Trevor Clarke in Bewdley, Worcestershire.

On arrival everyone put their best foot forward for a walk around the local area, with the route taking us past the nearby West Midlands Safari Park. Having then worked up an appetite, on return the BBQ was open for business and everyone enjoyed burgers, hot dogs and home made soup, together with some delicious desserts.

The club stall did brisk sales, with Christmas cards and calendars being top sellers amongst the range of Airedale gifts and items on offer.

This year we were also joined by Rachel Clayton and her husband, who had brought along her children's story books and cards featuring the adventures of Ruffle the Rail Dog, an Airedale Terrier who lives at a railway station.

These were also popular and well received. More details about Rachel's books can be found on our Links page.

In addition club member Sophie Fury had brought along a grooming table and very kindly offered to help fellow Airedalers with grooming and trimming tips, which also proved popular. Many thanks to Sophie for her help and advice.

The overall winners of the general knowledge quiz, which was closely contested, were the hardworking Kitchen Team – a joint effort between MCATC committee members and several younger members of the Clarke family - well done to them!

For the fancy dress it was definitely a case of quality not quantity this year, with just the three entries, but of a very high quality!

As a thank you for all their help we asked two of Trevor's grandchildren to judge the fancy dress, and after much deliberation they awarded first prize to young Hugo Carthy dressed as 'Hugo Potter' – together with younger members of the Carthy family in matching 'Hugo Potter' scarves!

Runner up was 'Sweet As Fudge' Dixon in a wonderful shiny sweet costume, and third was Daisy Herrin as 'Ghostly Tails by A Dale' with her marvellous scary ghost costume! Well done to them all for a fantastic effort and some super outfits – it was a very difficult job to pick a winner!

Everyone then lined up for some group photos, it is a challenge trying to get one Airedale to sit still so 25 was almost impossible! However David Wilcock was happy to oblige and we are very grateful to him for allowing us to use some of his photos for our website. If you would like a high resolution copy of any of his photographs, please e mail David on david.wilcock@webmatrix.co.uk and he will be happy to send one to you.

Once again this year we were pleased to greet both familiar faces and also some first time attendees – with people travelling to spend the day with us from as far afield as Lincolnshire, Powys and Tyne & Wear.

As always the committee would like to thank all those who came along to join us - your

support for the club is much appreciated.

And as always our s

incere thanks to Trevor for allowing us to hold the BBQ again this year, and to him and his family for all their help both on the day and beforehand.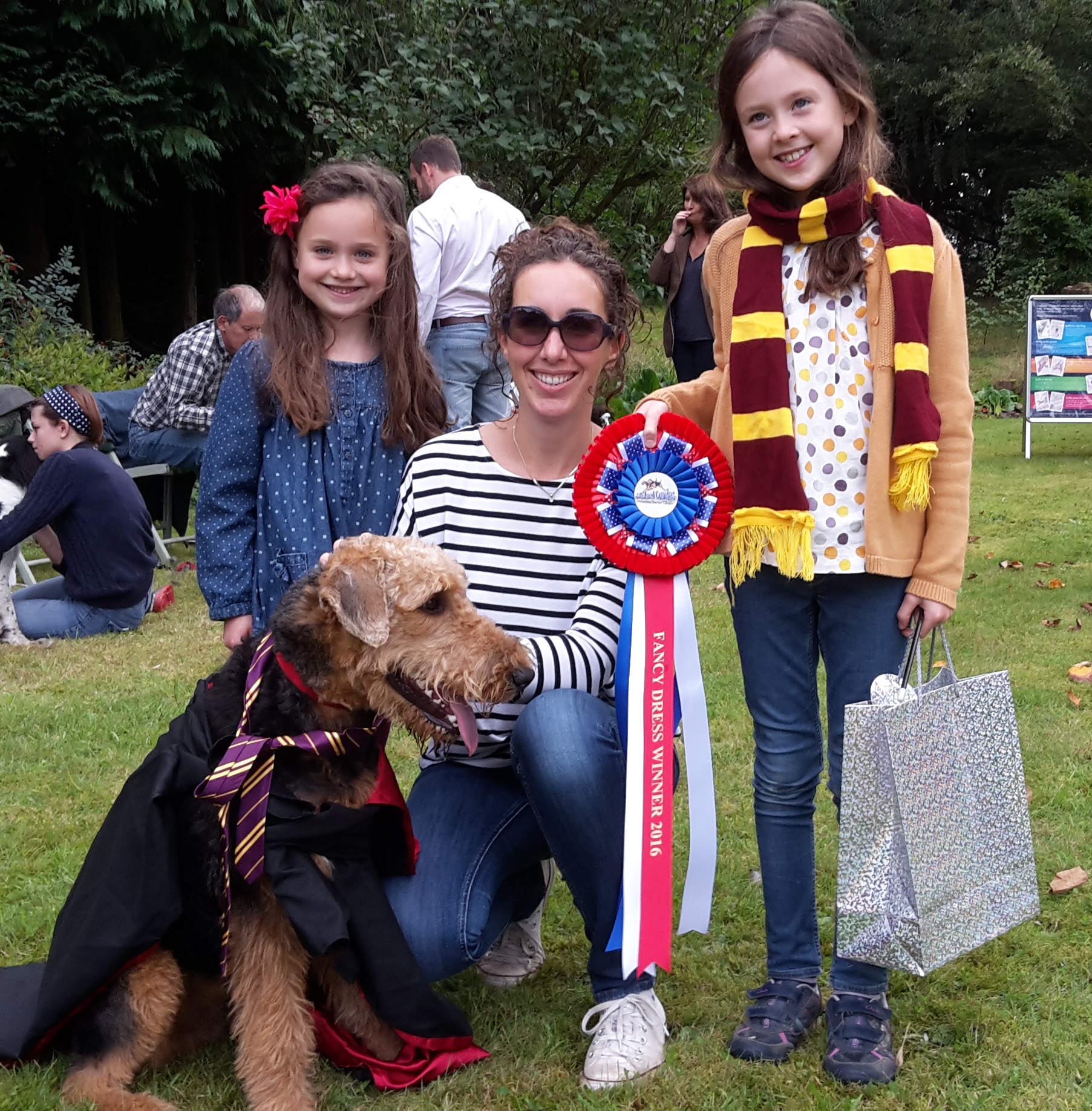 Fancy Dress Winner Hugo Carthy as 'Hugo Potter' with the Carthy Family proudly displaying his winning rosette!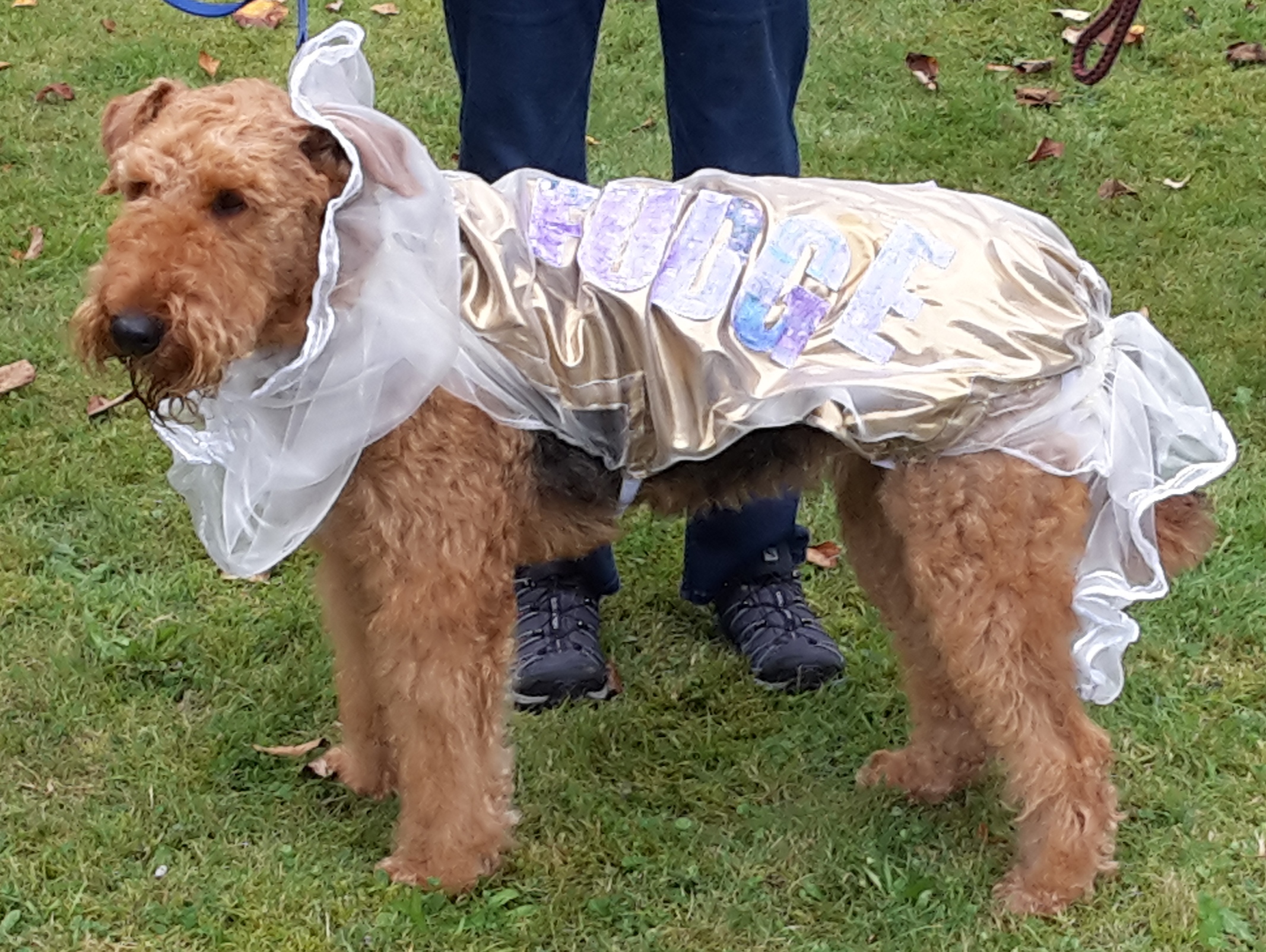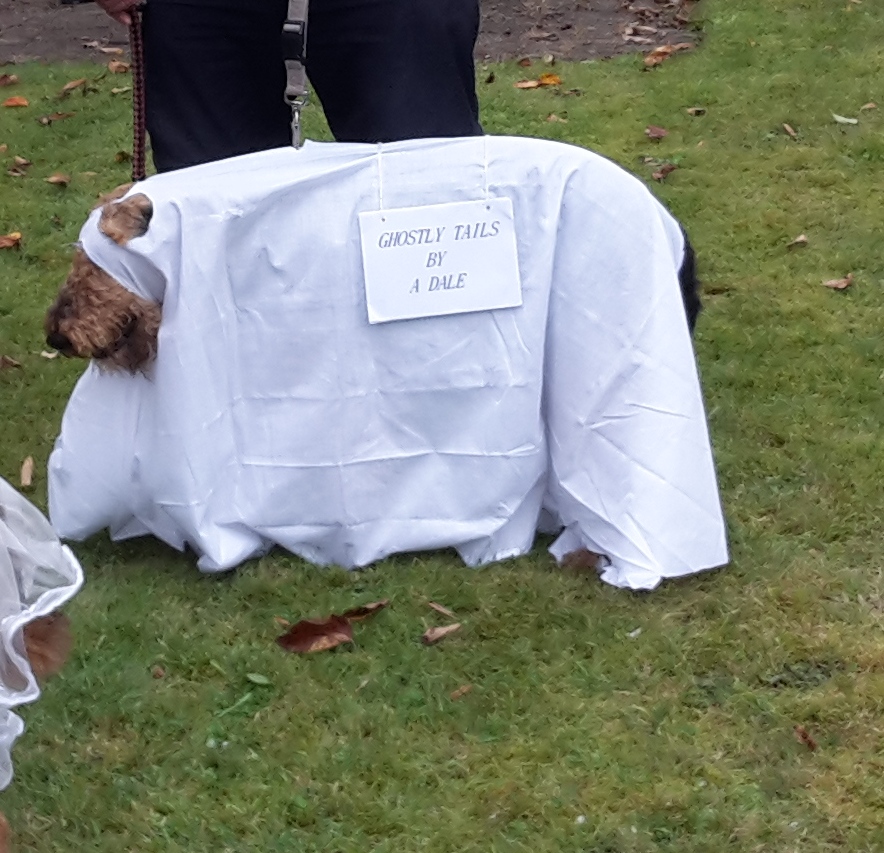 'Sweet As' Fudge looking wonderful in her shiny outfit! That's lovely Daisy under there as 'Ghostly Tails By A Dale'